Anthology
Unter dem Titel Anthology veröffentlichten die Beatles in den Jahren 1995 bis 2003 einen umfassenden Rückblick auf ihr künstlerisches Schaffen. Es erschienen drei Doppel-Alben, eine Video-Box und ein Buch.
Die Musik-Alben
Bei der Arbeit an den Anthology-Alben wollten die verbliebenen drei Beatles John Lennon mit einbeziehen. Als ihnen dann Yoko Ono drei frühere Demo-Aufnahmen Lennons der Titel Grow Old With Me, Real Love und Free As A Bird anvertraute, überarbeiteten sie diese in Zusammenarbeit mit Jeff Lynne digital und fügten neu eingespielte Gesangs- und Instrumentaltracks dazu. Die drei Songs stammen aus den Jahren 1977 bis 1980, in denen Lennon viel am Klavier in seinem Dakota-Apartment in New York komponierte.
Die drei Doppel-Alben enthalten Aufnahmen früher Auftritte, Demos, Studio-Outtakes und unveröffentlichte Titel aus den Jahren 1958 bis 1970 und vermitteln so einerseits einen Eindruck über die musikalische Entwicklung der Gruppe, gewähren andererseits einen Einblick in die Studioarbeit der Beatles.
Alle drei Alben wurden sowohl als CD als auch auf Vinyl veröffentlicht.
Anthology 1
Anthology 1 wurde im November 1995 veröffentlicht. Eröffnet wird das Album mit dem Song Free As Bird, der zuvor bereits als Single erschienen war und als erster neuer Beatles-Song seit 25 Jahren vermarktet wurde.
Die Titel des Albums decken die frühen Jahre der Beatles ab, angefangen mit Bandaufnahmen der Quarry Men aus dem Jahr 1958, geht die musikalische Zeitreise weiter mit den ersten Studioaufnahmen in Hamburg unter der Regie von Bert Kaempfert im Jahr 1961, den Demo-Aufnahmen für das Vorspielen bei Decca aus dem Jahr 1962, den ersten Aufnahmen unter der Regie von George Martin bis zu den Aufnahmen für ihr drittes Studioalbum Beatles For Sale aus dem Jahr 1964.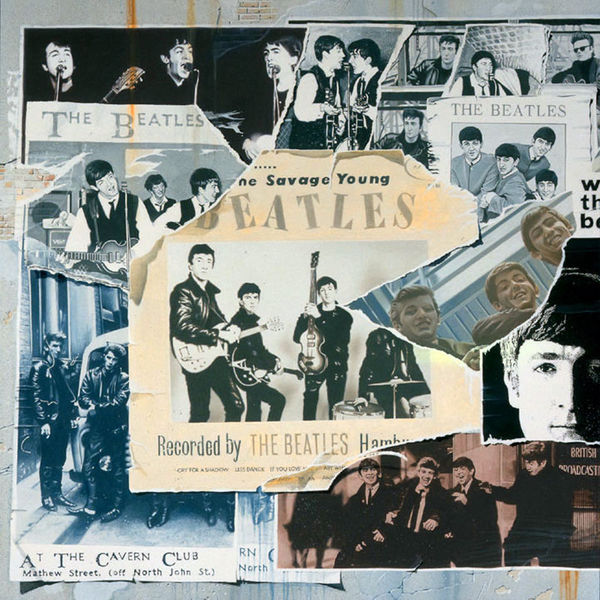 Anthology 2
Anthology 2 erschien im März 1996.
Wie der Vorgänger beginnt auch dieses Album mit einem neuen Beatles-Song: Real Love. Wie zuvor bei Free As A Bird hatten Paul McCartney, George Harrison und Ringo Starr in Zusammenarbeit mit Lynne eine Demo-Version eines alten Lennon-Songs überarbeitet. Anschließend führt das Album durch die musikalische Arbeit der Beatles während der Jahre 1965 bis 1968, u.a. mit Aufnahmen aus den Sessions für Help! und Rubber Soul und Revolver. Ein Höhepunkt sind die verschiedenen Takes aus den Aufnahmesession für den Titel Strawberry Fields Forever, die einen faszinierenden Einblick in die Entstehung des Titels geben.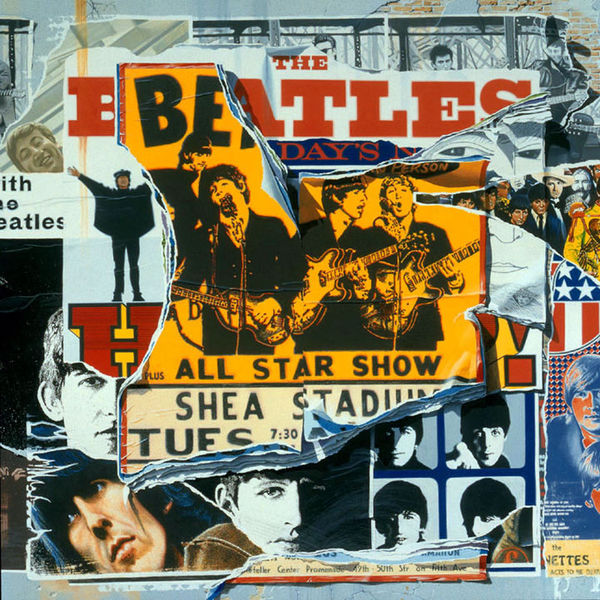 Disc one (CD 1)
All tracks written by Lennon-McCartney, except where noted.
"I'm Down"
"If You've Got Trouble"
"That Means a Lot"
"Yesterday (Take 1)"
"It's Only Love"
"Yesterday"
"Help!"
"Everybody's Trying to be my Baby" (Perkins)
"I'm Looking Through You"
"12-Bar Original" (Lennon-McCartney-Harrison-Starr)
"And Your Bird Can Sing"
"Eleanor Rigby" (strings only)
"I'm Only Sleeping" (rehearsal)
"I'm Only Sleeping" (Take 1)
"Rock and Roll Music" (Berry)
Disc two (CD 2)
"Strawberry Fields Forever" (demo sequence)
"Strawberry Fields Forever" (Take 1)
"Strawberry Fields Forever" (Take 7 and edit piece)
"Penny Lane"
"A Day In the Life"
"Good Morning Good Morning"
"Being For the Benefit of Mr. Kite!" (Takes 1 and 2)
"Being For the Benefit of Mr. Kite!" (Take 7)
"Within You Without You" (Instrumental) (Harrison)
"Sgt. Pepper's Lonely Hearts Club Band (Reprise)"
"The Fool On the Hill" (demo)
"The Fool On the Hill" (Take 4)
Anthology 3
Anthology 3 erschien im Oktober 1996. Obwohl ursprünglich geplant war, eine weitere neue Single zu veröffentlichen, kam es nicht dazu. Es hieß, es sei kein brauchbares Material aus dem Nachlass Lennons mehr vorhanden. So kommt es, dass ein unveröffentlichtes Instrumentalstück aus dem Jahr 1968 von George Martin das Album eröffnet.
Der dritte Teil der Anthology führt durch die letzten Schaffensjahre der Beatles und bringt Aufnahmen der Band aus den Jahren 1968 bis 1970. Es beginnt mit Aufnahmen aus den Sessions für das sogenannte White Album und endet mit Titeln aus den letzten gemeinsamen Studioarbeiten für das Album Abbey Road aus dem Januar 1970.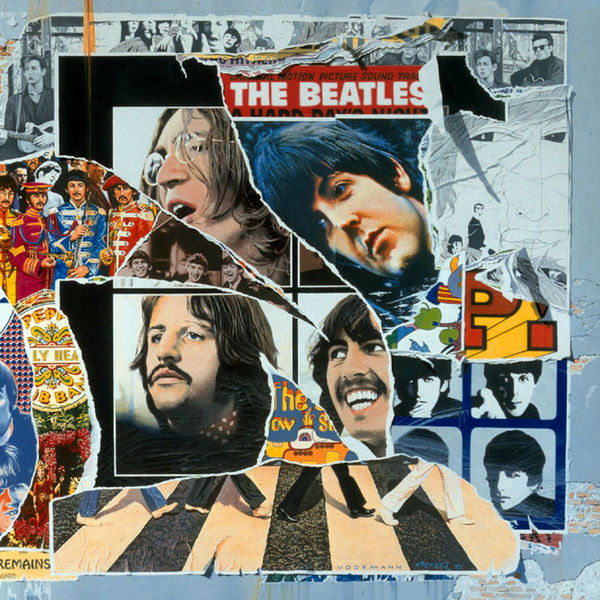 Free As A Bird
In dem Video zu "Free As A Bird" gibt es viele Andeutungen auf Songs und die Geschichte der Beatles, z.B.
zu Beginn des Songs ist ein Vogelflattern wie in "Across The Universe" zu hören

es sind Kinderbilder der Beatles zu sehen

die Liverpooler Docks in Erinnerung an John Lennons Vater

Die Hafenarbeiter: "They Run And Hide Their Heads" von "Rain"

ein Auftritt der Beatles im Cavern Club

Strawberry Fields von "Strawberry Fields Forever"

rennende Kinder von "Lady Madonna" ("See How They Run")

ein Lieferwagen mit der Aufschrift "Egg. Co." und ein Eiermann von "I Am The Walrus"

zwei Männer, die wie Beamte aussehen von "Taxman", streifen das Bild

das "Poppy Girl" von "Penny Lane"

der Friseur hat ein Foto der Beatles im Schaufenster von "Penny Lane"

zwei Frauen verlassen einen Laden, eine von ihnen ist "Polythene Pam"

ein Junge flüstert seiner Freundin etwas ins Ohr von "Do You Want To Know A Secret?"

zwei Menschen sitzen im Auto von "Why Don't We Do It In The Road?"

das Anthology-Cover in einem Schaufenster

eine Geburtstagstorte von "Birthday" mit der Zahl 64 von "When I'm Sixty-Four"

ein Schild mit der Aufschrift "Dr. Robert" von "Dr. Robert"

eine Menschenmenge "A Crowd Of People Stood And Stared" von "A Day In The Life"

ein Feuerwehrauto von "Penny Lane" ("He Likes To Keep His Fire Engine Clean")

"Pretty Little Policeman In A Row" von "I Am The Walrus"

ein Drachen (engl. kite) von "Being For The Benefit Of Mr. Kite"

jemand verschwindet über eine Leiter in einem Fenster von "She Came In Through The Bathroom Window."

eine große Sonnenblume "Everyone Smiles As You Drift Past The Flowers, That Grows So Incredibly High," von "Lucy In The Sky With Diamonds"

Kinder mit Schweinemasken von "Piggies"

ein Schriftsteller arbeitend am Schreibtisch von "Paperback Writer"

die Uhr zeigt 10:09 Uhr, "One After 909"

grüne Äpfel in einer Obstschale als Symbol für ihr Plattenlabel "Apple"

im Fernsehen laufen die Beatles bei der "Ed Sullivan Show"

eine Zeitung mit der Überschrift "4,000 Holes Found In Blackburn, Lancashire" von "A Day In The Life"

ein Portrait der Queen von "Her Majesty"

ein Mann repariert ein Dach von "Fixing A Hole"

ein "Blue Meanie" von "Yellow Submarine" guckt aus einem Loch in der Straße "Sleeps In A Hole In The Road" von "Mean Mr. Mustard"

auf der linken Straßenseite wird eine Bulldogge spazieren geführt von "Hey Bulldog"

ein "Newspaper Taxi" von "Lucy In The Sky With Diamonds" kommt die Straße herauf

eine Frau verschwindet mit dem Taxi "She's Leaving Home"

John Lennon und Yoko Ono tanzen den Walzer zu "I Me Mine"

der Bus der "Magical Mystery Tour" am Ende der Straße

ein Elefant von "Bungalow Bill"

alle möglichen Personen des "Sgt. Pepper"-Covers z.B. Maharishi Maresh Yogi von "Sexy Sady"

ein Grabstein mit der Aufschrift "Eleanor Rigby" von "Eleanor Rigby"

"Father McKenzie Wiping The Dirt From His Hands As He Walks From The Grave" von "Eleanor Rigby"

Paul McCartney auf einem kleinen Hügel von "The Fool On The Hill"

ein Mädchen allein mit einem Koffer von "She's Leaving Home"

dahinter zu sehen: "The Long And Winding Road"

der Fußgängerüberweg vom "Abbey Road"-Cover

eine Politesse an der linken Seite der Straße von "Lovely Rita"

der Vorhang fällt - "The End"